Rockstar just reveal their next big update for GTA V Online , its called "The Doomsday heist" coming this Tuesday (12Dec2017) Coming for PC,PS4 And Xbox One versions of game.
It seems like this update will Add more guns and Vehicles in the GTA V Multiplayer mode.The Doomsday Update will bring some danger to Los Santos And Players will team up to save it from what appears to be a Nuclear annihilation threat. AI called Clifford, futuristic jetpacks and tanks and, most excitingly, flying DeLorean-style and submersible Lotus Esprit-style cars.
The official press release describes it as:
"A billionaire tech mogul, an idealistic intelligence agent, a socially awkward conspiracy theorist and a neurotic supercomputer have been forced into an unlikely alliance to save San Andreas from total annihilation.
"As apocalyptic threats mount from enemies unknown, you and your criminal crew are enlisted to un-tangle mysteries and eradicate threats spanning from the bustling streets of downtown Los Santos to the ocean floor and all the way to the inner depths of Mount Chiliad in an epic new online adventure."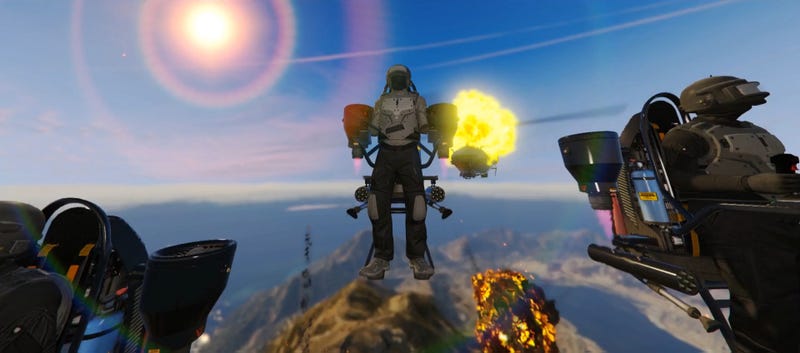 It looks like you'll break into top-secret bases, go on bombing runs, and drive a flying car. Jet packs, flying cars, underwater cars and a trip inside the mysterious Mount Chilliad—all that and more look like they'll be part of The Doomsday Heist, a surprise "epic new online adventure" Rockstar announced today for Grand Theft Auto Online. It'll be out on December 12.